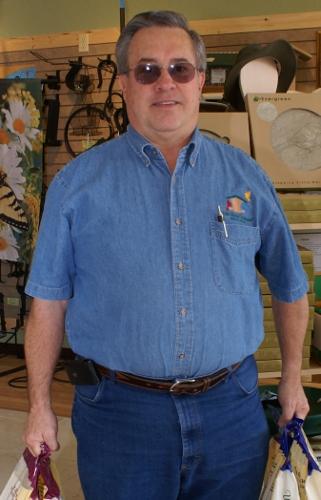 We will be opening late on Friday, March 20th at 2pm so that staff can attend the memorial service for Ronnie Early. Ronnie Early went home to Jesus on Monday, March 16th.
Please feel free to go to his page on Ultimate Tributes if you have anything to share about him. http://www.ultimatetributes.com/pages/explore-tributes.asp?id=7381
Ronnie M. Early, Sr.

A Memorial Service has been scheduled for Ronnie M. Early, Sr. at 11:00 AM, Friday, March 20, 2015 at Liberty Church in Broken Arrow, Oklahoma. Burial will follow at a later date in Orange, Texas.

Ronnie was born in Stamford, Texas on Sunday, January 11, 1948, the son of Ezra "Louis" and Lizzie (Shaffer) Early. He died in Tulsa, Oklahoma on Monday, March 16, 2015. He was 67 years of age.

Ronnie was a graduate of Crane High School in Texas. He attended Texas A & M University and obtained a bachelor's degree in mathematics. He married the former Miss Deborah Denmark on July 5, 1975 in Houston, Texas. Ronnie worked in marketing for Baker Oil Tools for 30 years. He and his wife Deborah have been owners of Wild Birds Unlimited since 2007. Ronnie loved owning his own business. He was a member of Liberty Church in Broken Arrow, Oklahoma. He was a volunteer firefighter. He loved to go camping, fishing and bird watching. He enjoyed woodworking and could fix anything. Playing with his grandkids was a source of joy. Memorials may be made to Liberty Church Missions at 7777 S. Garnett Rd. Broken Arrow, OK 74012 or Camino Global (For John and Gail Conner, #082620), 8620 La Prada Drive, Dallas, TX 75228.

He is survived by,

Wife, Deborah Early, Tulsa, OK

Daughter, Sarah Williamson, Tulsa, OK

Sons, Ronnie Early, Jr. and wife Kristi, Tallulah, GA
Alan Moore and wife Michelle, Garner, N.C.
Brian Moore and wife Manda, Lancaster, PA

Grandchildren, Elizabeth, Heidi, Timothy, Ezra, Silas, Julianna, Lily, Addie, Emma, Isabelle, and Owen

2 Nieces and 2 Nephews

He was preceded in death by his parents, sister, Vicki, and brother, Travis.